Congratulations on earning your MBA in Marketing!
You've invested much time and energy into your education, and now you're ready to take the next step in your career.
But what exactly should that step be?
There are plenty of courses after MBA Marketing out there that can help you enhance your skills and advance your career.
Before this, let's understand the meaning of Marketing and its various kinds.
Meaning of Marketing
Marketing is the process of identifying, anticipating, and satisfying the needs and wants of customers through the creation, promotion, and distribution of products or services.
It is a crucial aspect of any business as it involves understanding the target audience, developing a product or service that meets their needs.
This also helps in creating a marketing strategy to communicate the product or service's value to the target audience.
Different types of Marketing
Marketing can be broadly categorised into several types, each with its unique approach and focus.
Here are just a few examples of the different types of marketing that businesses can use to reach and engage their target audience.
Digital Marketing
Content Marketing
Social Media Marketing
Influencer Marketing
Email Marketing
Search Engine Marketing
Also read: Promising career options in Marketing you need to know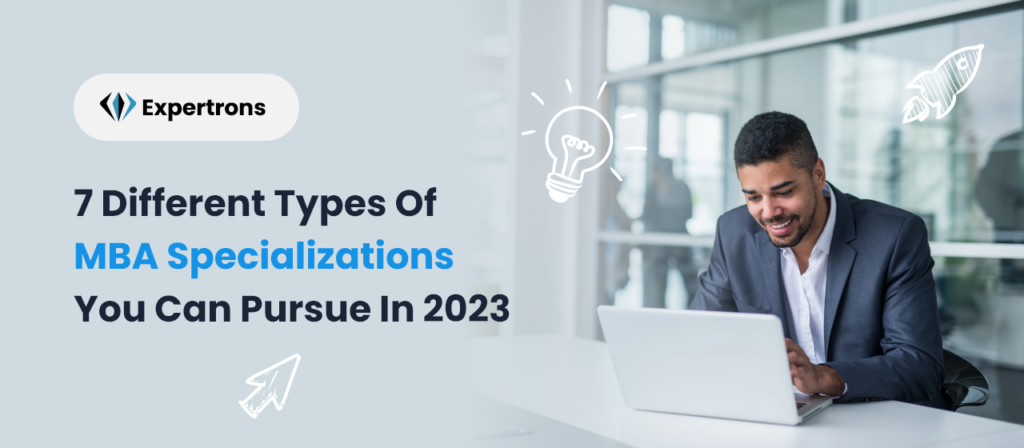 Top 5 Certifications & Courses after MBA Marketing to pursue
Below are some of the best courses after MBA Marketing that can boost your career prospects and help you stay ahead of the game.
#1 Digital Marketing Certification
In today's digital age, it's essential to have a deep understanding of digital marketing to succeed in any marketing role.
A digital marketing certification program is one of the top courses after MBA Marketing that can help you gain a strong foundation in online marketing channels such as social media marketing, email marketing, content marketing, SEO, and more.
You can take up a Certification in Strategic Marketing from Expertrons to gain essential skills to stay competitive in the job market.
What will you learn?
Fundamentals of Marketing
Branding & Positioning Strategies
Concepts of Digital Marketing
Latest Digital skills & Developments
Social Media Marketing, Retention Marketing and much more!
That's not it,
You also get a campus stay at E&ICT Academy IIT Guwahati to ensure your 360-degree career transformation.
To know the full curriculum details, click below
Click here: Get certified with E&ICT Academy IIT Guwahati to build Marketing skills 10x faster
#2 Customer Relationship Management (CRM) Certification
CRM is one of the next top courses after MBA Marketing which is the cornerstone of any successful marketing strategy.
Any marketer must understand how to use CRM software to manage customer data, track customer interactions, and analyze customer behaviour.
Taking a CRM certification course can give you a comprehensive understanding of the principles and practices of customer relationship management.
Salesforce offers several CRM certification programs that are highly regarded in the industry.
#3 Data Analytics Certification
Marketing data analytics is one of the best courses after MBA Marketing which is becoming increasingly important for organizations to make informed decisions.
Data analytics tools such as Google Analytics, Tableau, and SAS help marketers analyze data and generate insights to optimize campaigns, measure ROI, and track KPIs.
Certification in data analytics can help you understand the tools and techniques required for effective marketing analytics.
Also read A Definitive Guide on MBA in Human Resources
#4 Brand Management Certification
Building and maintaining a brand is one of the most critical responsibilities of a marketer.
A brand management certification program is one the best courses after MBA Marketing that can help you understand brand strategy, brand equity, brand positioning, and brand architecture.
The American Marketing Association (AMA) offers a brand management certification program that covers all aspects of brand management.
#5 Product Management Certification
A product management certification program is one of the primary courses after MBA Marketing that can help you develop the skills and knowledge required to manage products effectively.
You'll learn how to identify customer needs, conduct market research, develop product strategies, and manage product launches.
The Association of International Product Marketing and Management (AIPMM) offers a product management certification program that is recognized globally.
Conclusion
An MBA in Marketing is a valuable degree that opens up a wide range of career opportunities in the field of marketing, advertising, and branding.
After an MBA in marketing, a certification course can help you develop new skills, stay up-to-date with the latest marketing trends, and enhance your career prospects.
The above courses are some of the best certification programs to help you achieve your career goals.
By choosing the right course that aligns with your career goals, you can confidently take the next step in your career.
We believe in YOU!
Frequently Asked Questions
Is it necessary to pursue additional courses after MBA Marketing?
Pursuing additional courses after an MBA in Marketing is not necessary, but it can be beneficial in enhancing your skills and knowledge base, making you stand out in the competitive job market.
Can I pursue courses after MBA Marketing while working?
Yes, many courses can be pursued online or through part-time programs, allowing you to continue working while enhancing your skills.
What are the career prospects after pursuing courses after MBA Marketing?
Pursuing courses after an MBA in Marketing can enhance your career prospects and open up a range of opportunities in fields such as digital marketing, branding, sales management, public relations, and data analytics.
What factors should I consider when choosing courses after MBA Marketing?
When choosing courses after an MBA in Marketing, you should consider your career goals, areas of interest, industry trends, and the reputation and accreditation of the course provider.